

Texture Services

Almost every hair salon is offering hair perming and relaxing services but before you opt for any of these hair services, you should learn about the salon and it's team so you can choose the right services for yourself. Our stylists can help create your signature perm to add curl, volume, texture, and body, as well as silky smoothness, to shape any hair design. Using a variety of techniques, we will custom mix the perfect perm 'solution' for you.
Overview
U
niversal Unisex Hair Salon has probably been providing various Texture Services for longer than most salons in the Washington, DC Area. Many people think that perms and relaxers are the same things, however, are two completely different hair processes. In terms of implementation, relaxers and perms are very much similar. Perms add curls or waves to hair while relaxers straighten the natural curls and waves of hair. Both the treatments make use of
chemicals and heat
to alter the hair texture.
Our team is made up of several stylists who are experts at Thermal Relaxing and would be more than happy to answer any questions you have. We're constantly learning new skills and we're dedicated to staying on top of the latest fashion trends, styles, and industries best techniques/practices. UUHS provides complimentary consultations with no obligations.
UUHS offers "Traveling Salon Service" for your convenience. At your request, we will come to your home or place of meeting. This can save you time and the possible inconvenience of a busy salon. This service will also be handy if inclement weather arises. Please note there is a $60 flat fee in addition to the actual service provided.
*Long hair cost extra
Male= M, Female = F | Short Hair = SH, Long Hair = LH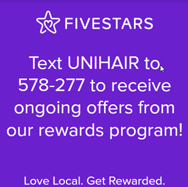 "A true professional with a great attitude."

Melvis Alessandro did a phenomenal job with my styling. I had a very important event and my hair was a disaster. He saw my big mess of hair just as a painter sees a canvas, or as a sculptor sees a block of marble. His vision and creativity saved the day, and I left a new loyal customer. Would recommend-and Melvis is a true professional with a great attitude who won't let you down.
"The glowing reviews are true!"

I was looking for a salon near Adams Morgan for a root touch up/toner, and haircut. The ratings on Google and Yelp for Universal Hair Salon were great, so I decided to give it a try. Lorena did my color, and Mila did my hair cut. They were both very professional, attentive, and so nice! Lorena even offered a complimentary conditioning mask to me for being a first-time customer (my hair really needed it!). I will definitely be back!
"I love my new look!"

Thank you so much Vasquez Johnny and the amazing team at Universal Hair Salon for this amazing hair transformation!!!! I love my new look! Keep up the great hard work and commitment in bringing the beauty out of everyone!
"Outstanding Salon!!! Every Friday at 5, I visit Carmen!!"











—

Brian Keith Calevro

For years Carmen has given me the BEST haircut ever, she takes her time, and pays attention to detail!! She is very reliable, and keeps in contact with me at all times! The Whole staff is OUTSTANDING, everyone is really very friendly, and down to Earth!! Quality is all I ask for, and quality is just what I get!!! Thank You, Universal Hair Salon for always making me feel at home!!! And Thank You Carmen, for simply being the BEST!!!