

Makeup

Ready to get glammed up? Want a great look for the big day or fun night out with the help of our professional stylists? Whether you're trying out a new look or getting prepped for a big day, we want to be the salon you go to for help. Immediately enhance the shape, color, and thickness of your brows by tinting. Our goal is to get you the look you want that meets and far exceeds your expectations, and we want you to look better than you ever even thought you could.
Makeup Overview
W
e provide prompt, personal and professional makeup services for every occasion. Whether you want quick makeup for a night out or the full-service treatment for a special occasion, we want to be your partner for success.
*Does not reflect prices for brides or bridal party, see below
Brow Tinting Overview
M
any clients want the effect of dark lashes and brows, but without all the fuss that makeup requires– filling in, shading, and of course, the extra time it takes in the morning.
Allow UUHS to assist in creating the perfect look for you! We'll turn those 'barely-recognizable-brows' into the perfect shape and definition. We have various tint colors that we can mix to create the shade that is perfect for you. Save the time from filling them in every day and wake up with amazing brows 🙂
You may get addicted- you've been warned!
At UUHS, we want to be as convenient as possible for you, so we love to make house calls. We offer a "Traveling Salon Service" that comes to your home or meeting place, to help save you time and to help you avoid a potentially busy day at our DC salon.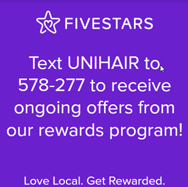 "A true professional with a great attitude."

Melvis Alessandro did a phenomenal job with my styling. I had a very important event and my hair was a disaster. He saw my big mess of hair just as a painter sees a canvas, or as a sculptor sees a block of marble. His vision and creativity saved the day, and I left a new loyal customer. Would recommend-and Melvis is a true professional with a great attitude who won't let you down.
"The glowing reviews are true!"

I was looking for a salon near Adams Morgan for a root touch up/toner, and haircut. The ratings on Google and Yelp for Universal Hair Salon were great, so I decided to give it a try. Lorena did my color, and Mila did my hair cut. They were both very professional, attentive, and so nice! Lorena even offered a complimentary conditioning mask to me for being a first-time customer (my hair really needed it!). I will definitely be back!
"I love my new look!"

Thank you so much Vasquez Johnny and the amazing team at Universal Hair Salon for this amazing hair transformation!!!! I love my new look! Keep up the great hard work and commitment in bringing the beauty out of everyone!
"Outstanding Salon!!! Every Friday at 5, I visit Carmen!!"











—

Brian Keith Calevro

For years Carmen has given me the BEST haircut ever, she takes her time, and pays attention to detail!! She is very reliable, and keeps in contact with me at all times! The Whole staff is OUTSTANDING, everyone is really very friendly, and down to Earth!! Quality is all I ask for, and quality is just what I get!!! Thank You, Universal Hair Salon for always making me feel at home!!! And Thank You Carmen, for simply being the BEST!!!