

Color Servies

Our hair coloring services are unbeatable in Washington, DC. We can create the latest color effects that are perfect for you and your lifestyle. We can solve any color problem and keep your hair healthy by using today's most advanced techniques and standard best practices.
Overview
W
ant to change your hair color? No problem, just talk to us! The color team at UUHS is made up of licensed stylists with experience and education. We'll diligently listen to your needs and concerns, look carefully at your problem and give you our professional recommendations on how to get the color results you want, as well as improve the condition of your hair.
Suffering from a color disaster? No need to worry! You can count on our skill and experience, knowledge of the latest techniques, use of the very best products, and our dedication to restoring health and beauty to your damaged hair. We've been correcting hair color for years and our stylists are equipped to handle every situation: minor adjustments to the overall tone, or a few highlights to the existing color to make it look more natural, or elimination of unwanted brassy or ashy tones.
UUHS offers "Traveling Salon Service" for your convenience. At your request, we will come to your home or place of meeting. This can save you time and the possible inconvenience of a busy salon. This service will also be handy if inclement weather arises. Please note there is a $60 flat fee in addition to the actual service provided.
*Prices are based on the level of stylist you choose
Male= M, Female = F | Short Hair = SH, Long Hair = LH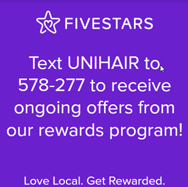 | | | |
| --- | --- | --- |
| Single Process |    45 min | SH: +$90 | LH: +$100 |
| Partial Highlights |    60 min | +$100 |
| Full Highlights |    90 min | SH: +$130 | LH: +$160 |
| Color & Partial Highlights |    120 min | SH: +$190 | LH: +$210 |
| Color & Full Highlights |    150 min | SH: +200 | LH: +$250 |
| Multi-Dimension Coloring |    TBD | $ TBD |
| Special Effects |    40 min | +$50 |
| Corrective Color by Consultation Only |    TBD | $ TBD |
| Transitioning To Gray |    TBD | $ TBD |
"A true professional with a great attitude."

Melvis Alessandro did a phenomenal job with my styling. I had a very important event and my hair was a disaster. He saw my big mess of hair just as a painter sees a canvas, or as a sculptor sees a block of marble. His vision and creativity saved the day, and I left a new loyal customer. Would recommend-and Melvis is a true professional with a great attitude who won't let you down.
"The glowing reviews are true!"

I was looking for a salon near Adams Morgan for a root touch up/toner, and haircut. The ratings on Google and Yelp for Universal Hair Salon were great, so I decided to give it a try. Lorena did my color, and Mila did my hair cut. They were both very professional, attentive, and so nice! Lorena even offered a complimentary conditioning mask to me for being a first-time customer (my hair really needed it!). I will definitely be back!
"I love my new look!"

Thank you so much Vasquez Johnny and the amazing team at Universal Hair Salon for this amazing hair transformation!!!! I love my new look! Keep up the great hard work and commitment in bringing the beauty out of everyone!
"Outstanding Salon!!! Every Friday at 5, I visit Carmen!!"











—

Brian Keith Calevro

For years Carmen has given me the BEST haircut ever, she takes her time, and pays attention to detail!! She is very reliable, and keeps in contact with me at all times! The Whole staff is OUTSTANDING, everyone is really very friendly, and down to Earth!! Quality is all I ask for, and quality is just what I get!!! Thank You, Universal Hair Salon for always making me feel at home!!! And Thank You Carmen, for simply being the BEST!!!