

Special Events

Do you have a special event like Prom, a party or an anniversary coming up? Stop by UUHS and we'll make sure you look spectacular. We also host brides and bridal parties frequently, and we are sensitive to the specific needs of each wedding day. Updo price varies depending upon the complexity and creativity of the design and individuality of the hair.
Overview
A
 "UUHS offers a first time 'complementary consultation' so that you may have the opportunity to converse with the artistic team who will help you design the look you want for your wedding day. At this time it is also advisable to set an appointment for a
'trial-run'
which should be set approximately one month before the wedding. At the 'trial-run,' the bride-to-be should bring headpiece, hair flowers, hairstyle photos if available. If possible, bring photos of wedding gown. We will schedule the appointment for the actual wedding day at this time."
"Our bridal services are a la carte. The bridal consultation includes a thorough consultation to ensure the bride's desires are fully accounted for. The trial run appointment includes a 1.5-hour trial run for wedding day hair. The day-of service takes place on the wedding day."
"In addition to the above, the 'groom-to-be' should prepare by meeting his stylist two weeks prior to the wedding date."
"This is also a perfect time to pamper yourself with a variety of luxurious beauty treatments such as Hair Color, Make-up, Extensions, etc."
*Please wear a button-up shirt to both appointments in order to change easily without disrupting hair.
UUHS offers "Traveling Salon Service" for your convenience. At your request, we will come to your home or place of meeting. This can save you time and the possible inconvenience of a busy salon. This service will also be handy if inclement weather arises. Please note there is a $60 flat fee in addition to the actual service provided.
*Prices are based on the level of stylist you choose
Male= M, Female = F | Short Hair = SH, Long Hair = LH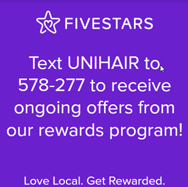 "A true professional with a great attitude."

Melvis Alessandro did a phenomenal job with my styling. I had a very important event and my hair was a disaster. He saw my big mess of hair just as a painter sees a canvas, or as a sculptor sees a block of marble. His vision and creativity saved the day, and I left a new loyal customer. Would recommend-and Melvis is a true professional with a great attitude who won't let you down.
"The glowing reviews are true!"

I was looking for a salon near Adams Morgan for a root touch up/toner, and haircut. The ratings on Google and Yelp for Universal Hair Salon were great, so I decided to give it a try. Lorena did my color, and Mila did my hair cut. They were both very professional, attentive, and so nice! Lorena even offered a complimentary conditioning mask to me for being a first-time customer (my hair really needed it!). I will definitely be back!
"I love my new look!"

Thank you so much Vasquez Johnny and the amazing team at Universal Hair Salon for this amazing hair transformation!!!! I love my new look! Keep up the great hard work and commitment in bringing the beauty out of everyone!
"Outstanding Salon!!! Every Friday at 5, I visit Carmen!!"











—

Brian Keith Calevro

For years Carmen has given me the BEST haircut ever, she takes her time, and pays attention to detail!! She is very reliable, and keeps in contact with me at all times! The Whole staff is OUTSTANDING, everyone is really very friendly, and down to Earth!! Quality is all I ask for, and quality is just what I get!!! Thank You, Universal Hair Salon for always making me feel at home!!! And Thank You Carmen, for simply being the BEST!!!